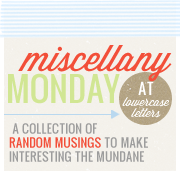 It's the start of a brand new week! Here are a few random tidbits from our lives lately:
(1) I am so, so excited! Up until
today
, both sets of grandparents have lived in the Midwest, and the girls only got to see them once or twice a year. But my in-laws are on my way to their new house (about 30 min from us) right now with the moving van! This is one of those things I've prayed about for a long time for my girls but never actually thought would happen...Thanks, God!!
(2) Logic to a three year old:
Me: Why are you out of bed?
Hannah: I have to go pooootttty!
Me: Ok, why were you playing in the bathtub?
Hannah: Because I'm thiiiirrrrsssttttyyyy!!
Me: Go to bed. Now.
(3) Someone gave us two miniature tea sets that my girls absolutely love. The cups hold about a tablespoon of tea. What is it with little girls and little, tiny toys?? Littlest Pet Shops, Polly Pockets...I guess they like having things that make them feel big :)
(4) We are officially kicking off homeschooling this fall! We've chosen to go with the K12 program, which enrolls Linsey in a virtual charter academy and makes me her moderator/teacher. It's supposed to be very thorough and similar to Hirsch's core knowledge program. I'll be posting lots more once we get started, can't wait!
(5) We have discovered the BEST snack EVER this summer!! It's from our Vacation Bible School. It's a s'more, only there's no melting involved. Are you ready??
Super-Easy S'More's
Ingredients
: Graham crackers, chocolate frosting, marshmallow fluff, chocolate chips
Directions
: Spread chocolate frosting on one graham cracker, marshmallow fluff on the other. Sprinkle a few chocolate chips (regular or mini-size) on the corners and in the middle to hold sandwich together, and enjoy!!! Dangerously delicious :)