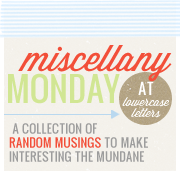 ...because I get to wake up and think about what to post for
Miscellany Monday
!! Here are some little known facts about our family:
1} My youngest loves getting dirty. I love this pic because she is trying to put her hand in the handprint stone made by her sisters last year for Mother's Day. It just strikes a chord in me, like she's following the marks they leave or something... or maybe, she just likes dirt.
2} I love that my husband always comes running as soon as he hears a crash, a thud, or a "Help me!!" Always. I remember being pregnant and getting stuck under the bed while trying to get out the wrapping paper. Prince Charming was right there, pulling me out after he stopped laughing. Then as I was still getting the hang of nursing, Linsey somehow got all tangled up in my hair, and I shrieked. Again, my knight in shining armor came bursting into the room to my rescue, along with the assistant pastor that he brought home for lunch...yeah. That's another story, with more shrieking involved :)
3} We are having a blast with water! When it's 105, there's not much else you can do outside. We have a little inflatable pool, plus we've gotten to swim in the neighborhood pools several times this summer. Hannah always wants to go swimming, so at least once a day, I hear in a serious voice, "Mama, I'm feeling kinda swimmy-ish. (She thinks it's a real illness) Can we go to the pool?"
4} In conclusion...
This summer, I have learned that a lollipop will keep my child quiet for 5-7 minutes.
A box of tampons, however, will keep her quiet for half an hour!
Happy Monday!!